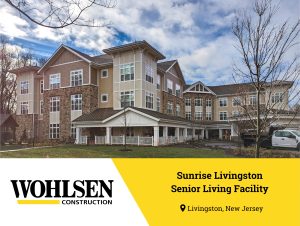 When Sunrise Senior Living was ready to construct a brand-new facility in Livingston, New Jersey, only one partner came to mind. Like with many of their other locations across the Northeast, the nationwide operator of assisted living communities knew they could trust Wohlsen Construction Company to deliver quality and experience. As one of over 50 projects between the two teams over the last two decades, trust and familiarity offered the perfect foundation.
The new 84,000 sq. ft. assisted living and memory care facility is part of a regional expansion for Sunrise Senior Living's national presence, featuring 103 resident units, as well as high-end amenities, including an outdoor terrace, commercial kitchen with large dining rooms, and small hang-out spaces for visiting family and friends.
With a partnership footprint that spans across Pennsylvania, Delaware, New Jersey, and Connecticut, totaling almost $150 million in construction, this task was nothing new to Wohlsen. But navigating tight site parameters and a tricky supply chain environment would add unique challenges to the mix.
Choose Wohlsen for your next senior living project!