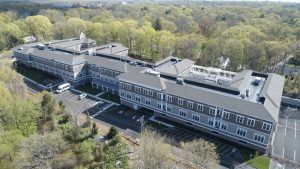 The Residence at Selleck's Woods is a welcome addition to the local community as the demographics continue to shift with an increase in the aging population. This allows more residents to stay in their local town, be close to family and medical professionals, and provide new jobs for the community. The new senior living community is conveniently located in the town and provides easy access to retail, entertainment, and outdoor activities and staying connected to family and friends. 
The amenities include multiple dining venues, a movie theater, a fitness center, a spa, billiards rooms, a library, and a bistro. The adjacent 48-acre nature preserve provides access to a series of walking trails that the residents can easily access as part of their new neighborhood. The residents can not only partake in the local community activities, but it is also ideally situated with easy access to New York City via I-95, regional Amtrak, and Metro-North rail service. Additionally, the new community provides approximately 70 full- and part-time jobs to residents of the neighboring communities.
The team needed to tackle several challenges to the schedule throughout the project. An initial delay of two months due to a sewer easement pushed the enclosure of the building into the winter months. Ground heaters and exterior tarping were used to keep the building from freezing and allowed the work to continue. Unexpected rock excavation caused more delays to the overall project schedule. The public water main providing new water service to the building did not have adequate pressure, so a fire pump was added to the sprinkler system, resulting in a significant amount of redesign after foundations and wood framing were already completed. With flexibility and communication, Wohlsen and the entire project team successfully adapted to the many challenges and met the client's high expectations for the final product. The new community was constructed per schedule and on budget, resulting in a beautifully designed, well-constructed facility.
A Tight Site and Good Neighbors
A detailed and comprehensive traffic management plan was needed to ensure that not only the construction traffic could access the site but also tenants of the occupied office building located at the rear of Parkland Drive could access their place of work with minimal disruption. During a portion of the site work, a temporary road was constructed, and traffic was shifted to one way. Using a flagman ensured smooth and accident-free traffic management for the construction crews and the neighboring office.
Repurposing an Old Structure
The site was formerly a 25,000-square-foot office building that was torn down to concrete floors, structural steel, and roof deck. The entire team collaborated and worked extensively to maintain the existing structure and incorporate it into the design of the new 140,000-square-foot community. The structural system created a two-story frame building atop an enclosed 77-car parking garage and incorporated the steel frame from the existing building.