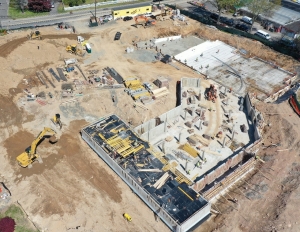 The Sunrise Senior Living Franklin Lakes project is your typical job site by every appearance. The 82-unit steel frame facility consists of two floors above a basement parking garage and spans 110,000 square feet. But there's more to Franklin Lakes than meets the eye. Beneath the surface, a network of sensors is uploading concrete temperature and maturity data to the cloud in real-time.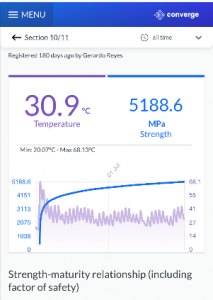 At Franklin Lakes, Premier Concrete Systems and Wohlsen Construction Company partnered with Converge, a green construction tech company in the UK, to see how real-time concrete data monitoring could transform our job site. Converge, which is currently expanding to the US, develops AI-based technologies and sensors that digitize and optimize construction sites. With the intelligence gathered by the software and sensors at Franklin Lakes, Wohlsen sees a compelling opportunity to drive efficiency and sustainability across the entire portfolio.
Onsite in New Jersey, Wohlsen Project Engineer Gerardo Reyes embedded 4 of Converge's sensors in each 12-inch pour, for a total of 4 sensors across the superstructure. Every sensor has a QR code, which is scanned into Converge's ConcreteDNA software system.
"The sensors were very easy to set up and use and the support we had from Converge was excellent. " remarked Gerardo. Each sensor takes continuous concrete temperature readings after a pour. A Bluetooth-enabled device with the Converge app can collect the sensor data wirelessly and transmit it to the cloud for Converge to process and return real-time concrete strength information. The platform can also be configured to notify devices whenever the concrete strength reaches key milestones.
Premier Concrete Systems, was eagerly waiting for concrete in the basement to meet 75% maturity in order to remove shoring and install plumbing and electrical. Using conventional concrete testing methods, Reyes would receive actionable updates on concrete strength from a laboratory once every seven days. Thanks to Converge's system sensors, Reyes gathered daily readings for the Franklin Lakes site in twenty minutes and shared them immediately with Premier, allowing them to act without delay or risk."With this kind of technology, we're able to increase efficiency exponentially because we can act precisely when we want to" stated Tony Escada of Premier Concrete.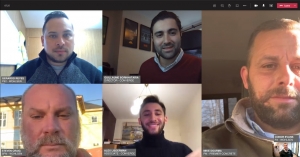 Wohlsen's partnership with Converge is also a success story in virtual and international collaboration in a post-COVID world. Wohlsen Construction Project Executive, Conor Evans first learned of Converge from an ENR article in the January 29, 2020 edition. Within two weeks, Evans had engaged the London-based company to dispatch sensors to the Franklin Lakes site in New Jersey. Wohlsen unexpectedly began construction a week ahead of schedule. Responding dynamically to the change of schedule, the Converge customer service team acted quickly, and across a five-hour time difference, to deliver the sensors in time for the first pour and to coordinate sensor calibration from overseas. During the worldwide disruption from COVID-19, Converge, Wohlsen, and Premier continued to successfully collaborate across the Atlantic via video conference. Although these circumstances deviated slightly from Converge's typical calibration workflow, the sensors provided notable accuracy at the 7- and 28-day mark. Calibrating according to the standard procedure would have improved accuracy further.

Continuous improvement is a Wohlsen Construction core value and Converge's ConcreteDNA system poses unparalleled industry opportunity. "The kind of unique and specific insights we can gain with this technology presents a drastic opportunity to change our workflow across our regional footprint." – Conor Evans