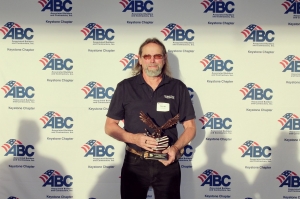 We are pleased to announce Wohlsen master carpenter, George Caldwell was awarded ABC Keystone's 2021 Craft Professional of the Year Award for carpentry. In the five-year history of the award, four have been awarded to Wohlsen craft professionals.
The winner is selected based on his or her mastery of skills, safety performance, job site performance, productivity, and leadership. Caldwell was recognized for his work on Signature Senior Living, Tel Hai Retirement Community StoneCroft Independent Living, and Lancaster Country Day School Gardner Theatre.
This acknowledgment is proof of Caldwell's vast experience and dedication to the trade since joining Wohlsen over 25 years ago. He approaches each assignment with skill, passion, and expertise. This represents the hard work and quality performance that is embodied by the entire Wohlsen team and that is exemplary of merit shop construction.