Wohlsen Construction is excited to celebrate its 5th anniversary as one of Connecticut's leading construction management companies. Located in Hamden, Wohlsen specializes in building senior living, healthcare, commercial, and education facilities and has skyrocketed to success with several award-winning projects. "Not many companies are able to accomplish what Wohlsen has done in just five short years in terms of the volume of construction and diversity of the markets we serve" noted Mauro Rubbo, Regional Vice President. "We are thrilled to recognize this important milestone and consider the last five years as excellent building blocks for the next five as we expand across the State" added Rubbo.
What's the secret ingredient for Wohlsen's prominence in the Connecticut construction industry? There is no question that financial stability and a strong bandwidth of resources are key components, as Wohlsen Construction Company is headquartered in Lancaster, PA and enjoys over 130 years of experience, 300+ team members in offices throughout the Mid-Atlantic. However, when it comes to success in Connecticut, Wohlsen intentionally set aim on the most important factor: local team. The reality is that people build buildings and not corporations which is emblematic of Wohlsen's approach in Connecticut over the last five years. "We're doing it right" stated Mauro, a Connecticut native and Guilford resident, "our entire team is handpicked and consists of local construction experts from project managers to estimating staff." "We're from here and raising our families here. We have a vested interest in the success of our communities which reflects how Wohlsen delivers projects" remarked Justin Gamache, Wohlsen's Preconstruction Manager from Manchester.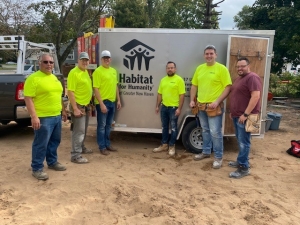 So how does a team with the horsepower of a top regional firm and the agility as a local builder dedicated to homegrown success celebrate the 5th anniversary? Easy, they volunteer to build on their day off. "Wohlsen promotes a culture that is rewarding, challenging and fun. Volunteering with the Greater New Haven Habitat for Humanity is a natural extension of that culture. We jumped at the chance to give back to the community" commented Larry Leonard, Wohlsen Superintendent and Milford resident.
As the team gathered recently to commemorate their anniversary, it is apparent that understanding who Wohlsen is offers an insight into what they have achieved. Namely, completing over a dozen projects totaling nearly 1 million square feet since 2016. These projects range from renovations for national clients like American Red Cross, to a new parking garage at Central Connecticut State University, retail storefronts, ground-up senior living communities such as Sunrise Senior Living, and renovations for Gaylord Hospital. The benchmark for Wohlsen's success during this period is not measured in total square footage but rather in its rate of repeat client satisfaction. "Our clients invite us back, after we complete a project, to manage construction for additional projects. From our perspective, that is a true sign of success" stated Rubbo.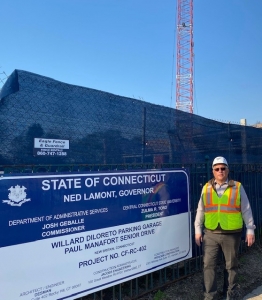 While creating raving fans remains a top priority for success by the Connecticut team, so is building name recognition among clients, architects, and engineers. Although sometimes phonetically challenging (pronounced "WOOL-son") there is no doubt that Wohlsen has grabbed the attention of industry insiders over the last five years. With a future as bright as their company-branded yellow trucks, Wohlsen Construction of Hamden has built an impressive reputation as quickly and professionally as their many projects in the hospital, college, and private school markets. Rooted in Connecticut, Wohlsen demonstrates the value they bring in managing construction projects, large and small.