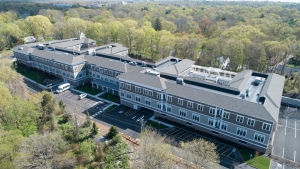 Wohlsen Construction Company was recently awarded a Connecticut Building Congress (CBC) First-Place Project Team Award for their work at LCB Senior Living, The Residence at Selleck's Woods. The community features 105 apartments, common amenities, and outdoor areas.
The CBC recognizes "outstanding building projects that exemplify project team excellence and represent the best practices in teamwork by project owners, architects, engineers, constructors and trades."
This challenging project involved the adaptive reuse of an existing office building with a substantial addition, the relocation of the existing underground infrastructure that needed to remain live to service neighboring properties and was built adjacent to a conservation easement. Safety and coordination were paramount to keep adjacent businesses up and running during construction. Developed using a classic team effort on the part of the client, architect, and construction manager, the project passed all final inspections and approvals on the first try without a need for re-inspection.
Wohlsen and the entire project team successfully met the client's high expectations for the final product. The new community was constructed per schedule and on-budget, resulting in a beautifully designed, well-constructed community. The successful completion of this project represents the collaboration and quality recognized by Connecticut Building Congress and their project team awards.