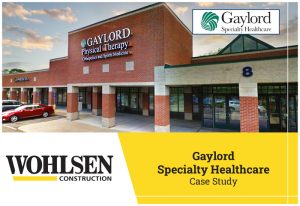 At a time when supply chain delays and material shortages have presented many challenges for construction and development teams, learn how the Wohlsen Team was able to partner, problem solve and collaborate with the owners of Gaylord Specialty Healthcare to deliver its newly renovated space on 8 Devine Street in North Haven ahead of schedule.
When Gaylord Specialty Healthcare was ready to transform an outdated space into a new, state-of-the-art healthcare facility, they brought in Wohlsen Construction as the general contractor to make it happen. The $1.3 million renovation involved approximately 12,000 square feet of neurology and orthopedic rehabilitation areas. The project was broken into two separate phases because when construction started in October 2021, patient care couldn't stop — the facility remained occupied and operational.
Read how trust, expertise and teamwork built on a common ground allowed for the project to take shape and eventually led Gaylord Healthcare and the property owner Healthcare Trust of America into Wohlsen Construction raving fans.