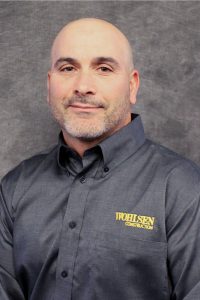 Being a superintendent at Wohlsen Construction (Wilmington Office) is a perfect fit for my skills. I graduated from vocational school with a masonry background and worked as a masonry instructor before deciding I wanted to get out in the field and build. I joined Wohlsen about five years ago and enjoy working with the trades on job sites. I look forward to coming to work each day. 
 Wohlsen surrounds you with a good team. You're not out there on an island by yourself. We all share the same goals. We perform, and Wohlsen rewards us for our performance with opportunities to advance our careers. 
I was promoted from Superintendent 1 to Superintendent 2 and have a path to continue advancing and taking on more responsibility. 
The projects we build at Wohlsen are challenging. I thoroughly enjoy that. It keeps me moving. I've worked in a variety of sectors, including office, senior living and health care. I oversee renovations and new construction. I'm always learning new things. The work is not redundant. It's fresh and different, which keeps us sharp.   
There is nothing more rewarding than turning over a project to an owner who is so satisfied that they come back to you with more work in the future. That happens frequently at Wohlsen, and it's a testament to our skills and commitment.  
I love the relationships Wohlsen has with the owners. We turn over beautiful projects. They're happy and we're happy. You know you're doing something right when you keep getting new projects. It means a lot. I pride myself on that.