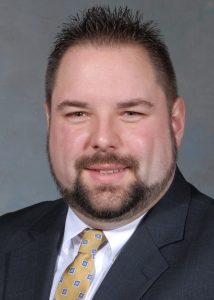 We are pleased to announce that Greg Meyer has been promoted to Vice President of Construction for Wohlsen's Maryland region.
In his new role, Greg will be responsible for overseeing all project team members and aspects of the construction process.
Greg joined Wohlsen in 2015 as a Senior Project Manager and was promoted to Project Executive in 2019. He has led project teams at Broadmead, Amtrak's Penn Station, Upper Chesapeake Medical Center, and at The Study at Johns Hopkins. Wohlsen's project teams benefit from Greg's insight, leadership, and relentless pursuit of excellence. He understands the risks in the work, and helps our teams navigate those risks in their day-to-day work.
Greg is a past participant in Wohlsen's Leadership in Action program, a program designed to strengthen and fine-tune leadership skills.
Greg has served on the Maryland Chamber of Commerce's Business Regulations & Operations Committee, and he currently serves on the Board of the Building Congress & Exchange, Baltimore's construction industry trade group that is a focal point of networking for industry members.